What Does God Think of Hillary and Trump?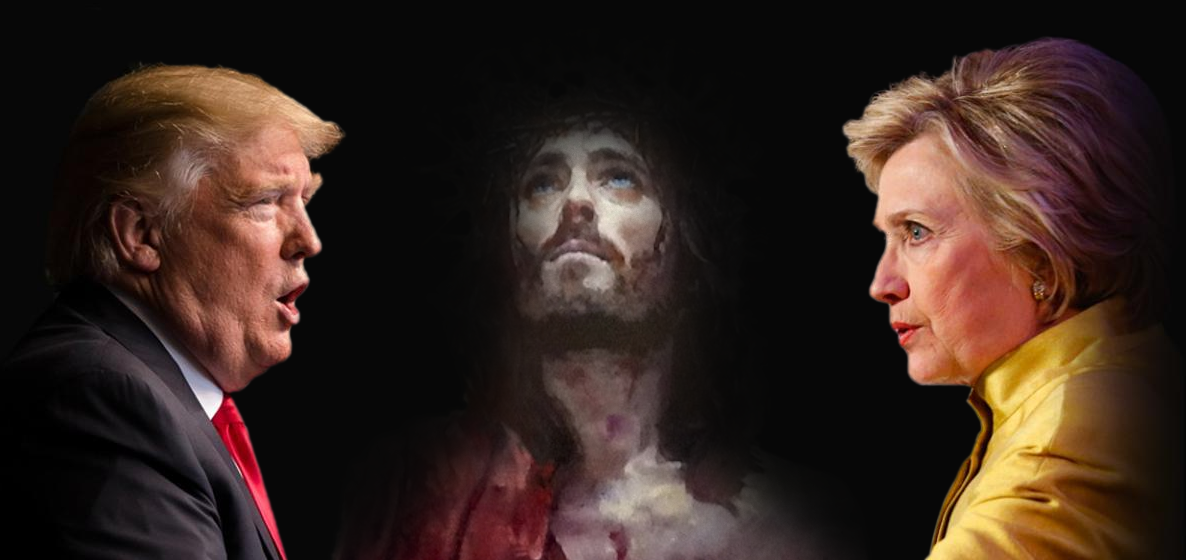 My American brothers and sisters, let me tell you, I certainly feel your pain.  I and many of your neighbours to the north have been watching what seems to be the most brutal election campaign ever.  I'm not going to tell you how to vote.  I have no say in it since it's not even my Country (something Canadians seem to forget).  But I would like to remind you, as well as all those following the elections, what we ought to be thinking about and doing as Christians.  Listen to my homily for more.  (How's that for a teaser?)
Readings referred to in the talk:
1st Reading: Wisdom 11:22-12:2
Because the whole world before thee is like a speck that tips the scales, and like a drop of morning dew that falls upon the ground.
But thou art merciful to all, for thou canst do all things, and thou dost overlook men's sins, that they may repent.
For thou lovest all things that exist, and hast loathing for none of the things which thou hast made, for thou wouldst not have made anything if thou hadst hated it.
How would anything have endured if thou hadst not willed it? Or how would anything not called forth by thee have been preserved?
Thou sparest all things, for they are thine, O Lord who lovest the living.
For thy immortal spirit is in all things.
Therefore thou dost correct little by little those who trespass, and dost remind and warn them of the things wherein they sin, that they may be freed from wickedness and put their trust in thee, O Lord.
Gospel Reading: Luke 19:1-10
He entered Jericho and was passing through.
And there was a man named Zacchae'us; he was a chief tax collector, and rich.
And he sought to see who Jesus was, but could not, on account of the crowd, because he was small of stature.
So he ran on ahead and climbed up into a sycamore tree to see him, for he was to pass that way.
And when Jesus came to the place, he looked up and said to him, "Zacchae'us, make haste and come down; for I must stay at your house today."
So he made haste and came down, and received him joyfully.
And when they saw it they all murmured, "He has gone in to be the guest of a man who is a sinner."
And Zacchae'us stood and said to the Lord, "Behold, Lord, the half of my goods I give to the poor; and if I have defrauded any one of anything, I restore it fourfold."
And Jesus said to him, "Today salvation has come to this house, since he also is a son of Abraham.
For the Son of man came to seek and to save the lost."